Ukraine: Seizure of Crimea airports is armed invasion - China.org.cn
Ukraine: Seizure of Crimea airports is armed invasion

Xinhua, February 28, 2014
Ukrainian Interior Minister Arsen Avakov said Friday the seizure of two airports on the southern Crimea Peninsula was an "occupation and armed invasion" .
"It is a violation of all international treaties and norms. This is a direct provocation aimed at armed bloodshed in the territory of a sovereign state," Avakov wrote in a statement.
Earlier in the day, an armed group took control of the two airports of Crimea's capital Simferopol.
Unidentified armed men patrol outside of Simferopol airport, on February 28, 2014. Ukraine accused today Russia of staging an "armed invasion" of Crimea and appealed to the West to guarantee its territorial integrity after pro-Moscow gunmen took control of the peninsula's main airport. [Xinhua photo]
Some 50 armed men carrying Russian navy flags took control of the airports overnight after arriving in trucks, the Interfax news agency reported.
Witnesses were quoted as saying the armed men were wearing the same gear as those who seized local government buildings in Simferopol.
On Thursday, security forces in Crimea were put on alert after an armed group seized local government and parliament buildings.
The Crimean Peninsula is a Russian-speaking Ukrainian region, where many ethnic Russians and Crimean Tatars live. The region occasionally witnesses clashes between different ethnic groups.
Tensions escalated in the area this week following the dismissal of Kremlin-friendly President Viktor Yanukovych, who was reportedly to hold a news conference Friday in the southern Russian city of Rostov-on-Don, not far from the Ukrainian border.
Meanwhile, Parliament Speaker Alexandr Turchynov, who is also Ukraine's acting president, urged Russian naval troops to refrain from going beyond the base of the Black Sea Fleet on the Crimea Peninsula.
Any troop movements outside the base "will be considered as military aggression," he told parliament.
In April 2010, Ukraine renewed the lease of Russia's Black Sea Fleet on its Crimean Peninsula for 25 years in exchange for gas price discounts.
Ukraine: Sevastopol installs pro-Russian mayor as separatism fears grow
Moscow shows its influence in Crimean city amid fears the whole peninsula could seek deeper ties with Russia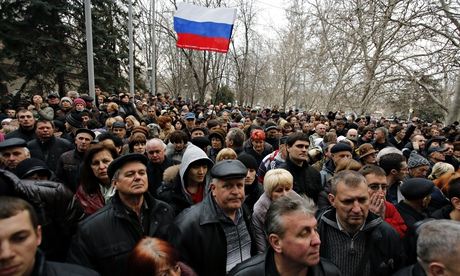 Authorities in the southern Ukrainian city of Sevastopol have installed a pro-Russian mayor as fears grow that the Kremlin may be stoking separatist sentiment in the region.
Sevastopol's city council handed power to Aleksei Chaliy, a Russian citizen, during an extraordinary session on Monday evening while more than a thousand protesters gathered around city hall chanting "
Russia
, Russia, Russia," and "A Russian mayor for a Russian city."
It was not immediately clear whether local security forces would back Chaliy, but earlier in the day Sevastopol police chief Alexander Goncharov said that his officers would refuse to carry out "criminal orders" issued by Kiev.
At least four checkpoints manned by armed police were in place on major roads into the city to stop the arrival of extremists, according to local media reports.
Ukraine
's interim president, Olexander Turchynov, warned on Tuesday that the country faced a "serious threat" from separatism.
Viktor Neganov, a Sevastopol-based adviser to the interior minister, condemned the events in the city as a coup. "Chaliy represents the interests of the Kremlin which likely gave its tacit approval," he said.
In recent years, Russia has faced accusations of fast-tracking the distribution of Russian passports in Crimea, as well as sponsoring pro-Russian groups.
Similar demonstrations to those in Sevastopol have taken place across Crimea in recent days, including the regional capital of Simferopol and the coastal town of Kerch. Self-defence militias are also being formed.
Russian state television channels have given the unrest large amounts of airtime.
The mayor of Sevastopol appointed from Kiev, Vladimir Yatsuba, was booed and whistled on Sunday when he told a pro-Russian rally that Crimea was a part of Ukraine.
Yatsuba was in tears when he announced his resignation to journalists on Monday, paving the way for his pro-Russian replacement.
Crowds gathered again outside Sevastopol's city hall again on Tuesday as rumours spread that security forces could arrest Chaliy.
"Putin and the Black Sea fleet should come," said one woman, who only gave her name as Alexandra, stood outside city hall on Monday evening as the city council voted inside. "We are not scared of bloodshed," she added.
________________________________________________________________________________
Russia's destroyer Smetlivy departs from Sevastopol to Syrian waters. | Opinion - Conservative
Source: http://www.mfs-theothernews.com/2013/09/russias-destroyer-smetlivy-departs-from.html
Russia's destroyer Smetlivy departs from Sevastopol to Syrian waters.
Friday, September 13, 2013 5:23
Russia's destroyer Smetlivy departs from Sevastopol to Syrian waters.(RBTH).
The Russian Black Sea Fleet destroyer Smetlivy has departed from the fleet's main base of Sevastopol to accomplish missions in the eastern Mediterranean, a military diplomat told Interfax-AVN on Thursday.
"The Smetlivy under command of Capt. 2nd Rank Andrei Zaitsev departed from Sevastopol this morning and headed for the Bosporus Strait. The destroyer will pass through Black Sea straits together with the large landing ship Nikolai Filchenkov that left Novorossiysk the day before. The Black Sea Fleet's ships will be accomplishing combat missions off Syria under a plan from the Navy operative command,"the source said.
The Smetlivy, which marked its 44th anniversary in June, returned to base in February after a 111-day combat duty in the Mediterranean Sea. It spent three months in a dock for repairs.
Destroyer brigade staff chief Capt. 1st Rank Pavel Yasnitsky has been appointed as the voyage superior.
The Smetlivy of Project 61 has a displacement of 4,460 tons. It is armed with X-35 "Uran" anti-ship missiles, an AK-726 artillery system, a 16-missile Volga air defense system, a 1×5 533-millimeter torpedo launcher (five torpedoes) and two RBU-1000 anti-submarine and anti- torpedo rocket launchers.
The frigate Admiral Panteleyev, the destroyer Neustrashimy and the large landing ships Alexander Shabalin, Admiral Nevelskoy, Peresvet, Novocherkassk and Minsk are accomplishing plans of the operative command in the Mediterranean Sea. The SSV-21 Priazovye medium-sized reconnaissance ship is operating under separate plans of the General Staff.
Source: http://www.mfs-theothernews.com/2013/09/russias-destroyer-smetlivy-departs-from.html